Finding some of the original cabinetry in the garage felt like quite an accomplishment but it's only half the battle. Maybe even less than half. It's probably only a quarter of the battle. In order to re-install the original cabinetry in the kitchen, we'll need to change the floor plan back to the original layout … except, of course, we'll want to keep the mod cons that were added when the kitchen was rehabbed back in the 1970's. And therein lies the problem.
As you can see in the original floor plan for the kitchen (the blueprint on the left), the original kitchen cabinets that we found in the garage would be installed on the right side of the room. Looking at the layout of the kitchen right now, you'll see that the refrigerator has now been placed in that space. At present, it looks like this: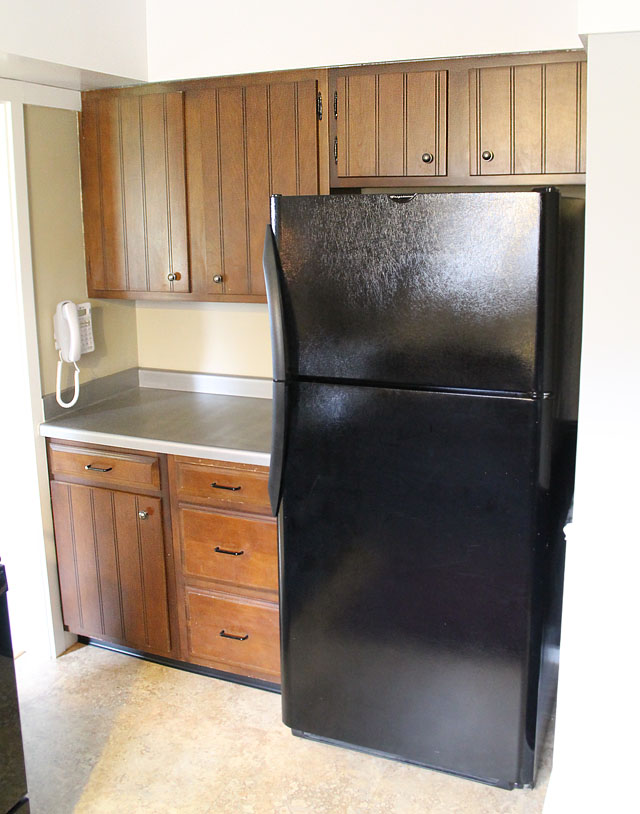 In order to replace the cabinetry in their original location, we'll need to relocate the refrigerator. Referring again to the old and new floor plans, you'll be able to see that a dishwasher is now placed where the refrigerator would have originally been located. As we're not willing to give up the convenience of the dishwasher, we're left pondering how we can make this work.
One thought is to replace the U-shaped cabinetry with a row of lower cabinets under the window. (We're actually leaning toward doing that anyway.) We could then center the sink under the windows (as it is now) and place a dishwasher on that wall. That may free up enough room to put the refrigerator back in its original location.
Another option would be to cut into the closet wall to create a built-in refrigerator:
This is not ideal for a couple of reasons. For starters, we not keen on changing the original layout of the house. Secondly, this would mean losing much of the space in the coat closet. We actually use that closet often – for our own coats, jackets and bags as well as our guests'.
It's going to be quite some time before we're ready to tackle this project and maybe we'll come up with a better solution in the meantime. Perhaps we could switch out the big refrigerator with a smaller unit? Maybe we could find some other built-in refrigeration system that could work somewhere in the kitchen?
If you have any ideas of your own, feel free to share them. We're open to all suggestions!
Images: This American House